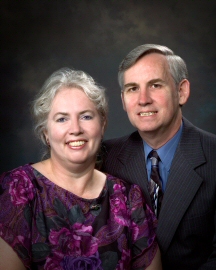 Field:  British Columbia, Canada
Ministry:  Church planting
Home Church:  Bethany Baptist Church, Galesburg, IL
On Field Since:  1975
Mike and Nettie Nulph have been serving with GFA Missions since 1973. For fourteen years they ministered in Edinburgh, Scotland, where they started Bethany Baptist Church. Three men from his ministry attended Bob Jones University. Sandy Edgar pastored the church in Edinburgh for a time and is now serving the Lord in Nova Scotia.  He and his wife are preparing to return to serve as tentmakers in Dundee, Scotland. Geoff Rodd returned to the UK with his wife and has been working in a church in Bristol, England.
The Lord redirected the Nulphs to British Columbia through the health needs of one of their children. In 1991 they joined David and Marilyn Janke in Abbortsford, working in their church and running their small Bible institute. When the Jankes started another church about 40 minutes away, Mike became the pastor of Central Valley Baptist Church.
Their outreach ministries include a children's club, nearly annual evangelistic meetings, and a nursing home ministry. They have had many opportunities to minister to the spiritual and physical needs of elderly at nursing homes and in their town.
The Nulphs have 10 children. The Lord supplied so that all of them except their handicapped son, Jeff, have attended BJU.